Our two scout troops, Merlin and Blackhawk, had a joint Paintball activity at Delta Force.
Pitted against each other in friendly matches, they engaged in combat in a number of different scenarios. There was capture the flag, capture the head(!) and a last man standing free for all.
We were blessed with lovely sunny October weather too!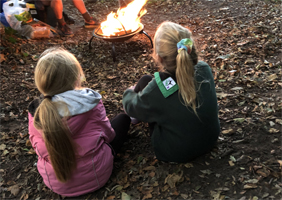 If you go down to the woods...
September 2021
The Lynx Cub Pack went to the woods by Sand Bay for an evening of games.
They sat around the camp fire singing songs and then toasted marshmallows as the light dimmed.
They had loads of fun just running about together.
And why do they always find a stick to wave around?!

---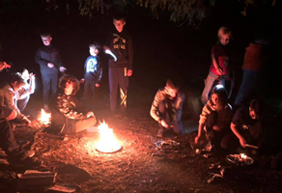 Forest Skills
September 2021
As the summer holidays draw to a close, our sections are planning for the Autumn term.
Blackhawk scout troop had a forest skills session in the woods. They played a few games, lit a few fires and cooked bananas stuffed with chocolate and marshmallows.
Many more adventures have been planned for the coming months!

---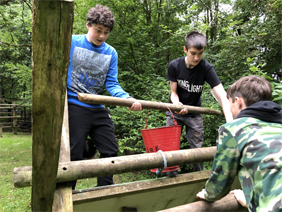 Merlin Troop Summer Camp
August 2021
'Merlin' scout troop were finally able to get away for a few days to camp in the Gordano Valley.
There was lots to do on site including pedal carts, snookball, obstacle course, wide games and open fire cooking. We even played a few games of Lazer Tag.
We hiked to Cadbury Camp (followed by some horses) where we ate a picnic.
It was fun chilling by the campfire too, singing songs and telling scary stories!
We are looking forward to hearing about 'Blackhawk' troop's adventures soon.

Click image for video!
---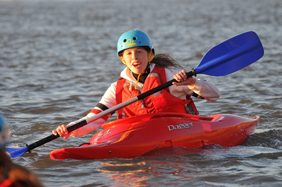 More time on the water
May 2021
The 'Merlin' scouts enjoyed two sessions of kayaking on Clevedon Marine Lake.
Clevedon Marine Active ran the sessions for us, teaching basic paddling skills and a few games.
We had lovely weather for our first week. The light rain during our second week wasn't enough to dampen our spirits!
Our other sections are looking forward to having their turn in the coming weeks.
---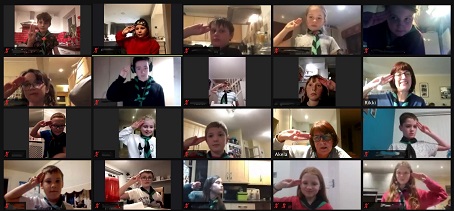 Keeping in touch online
March 2021
We have all had a difficult year. Although we were able to meet face to face briefly in the Autumn last year, the bulk of our meetings have been online.
But all six of our sections have risen to the challenge. Amongst other activities we have had Zoom sessions where we have cooked lasagne, cake in a mug and tasty biscuits. We have drawn, painted, sculpted and constructed.
We have completed badges by learning about science, astronomy, nature and martial arts.
As we start to meet in person again over the coming months, hopefully we will remember the best of our virtual time together!
---
Getting Back Together
September 2020
Our sections are slowly starting to meet again after the long break.
We have had hikes, visits to the beach, crabbing, chip shop challenges and frisbee golf!
We are looking forward to more activities, outside as much as possible, as we ease back into our scouting life.
It is lovely to see the smiling faces of our sections again in person!
---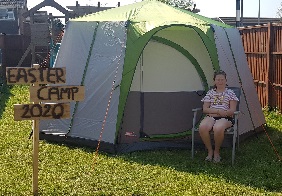 Virtual Easter Camp
10 April 2020
Being unable to go away as a troop due to the government restrictions, we held a 'Virtual Camp'.
On Friday evening, we prepared our hot chocolate for a Zoom campfire. We tried singing, but the time lag made this a bit tricky.
So we had a chat and swapped stories. The scouts then slept in their tents at home. Some were shelters built in the house and a few slept outside in their tents in the garden.
In the morning, the scouts cooked breakfast for their families. A couple of them took part in the 'Toilet Roll Keepy Uppy Challenge' and provided video evidence!
---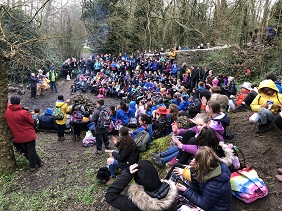 Kohoutek
14 March 2020
Merlin scout troop joined scouts from all around Avon county for a competition to test their skills and ingenuity!
We entered three teams who moved from base to base completing various challenges. Some of these got them pretty wet!
We didn't walk off with the trophy, but we were able to join in the mass camp fire and taught the other scouts and guides one of our campfire songs.
---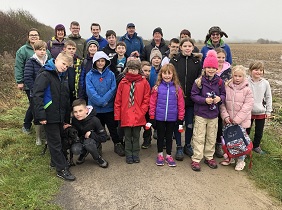 Strolling into the New Year
1st January 2020
It has become a bit of a tradition on our scout group to go for a gentle walk on New Year's Day. 2020 is no exception.
Cubs, scouts, leaders and parents got together to walk at Uphill Nature Reserve.
We enjoyed the exercise and being able to catch up with each other after the Christmas break!
---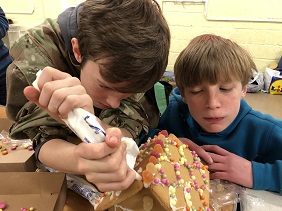 Gingerbread houses and more...
1st / 7th December 2019
Both scout troops had their separate Christmas Camps this year. Merlin troop had a zipwire session and enjoyed playing games in the woods. Blackhawk troop did a bit of electronics, which included soldering circuits. They all got a chance to build and decorate gingerbread houses, with varying degrees of success!
Both troops enjoyed a proper Christmas dinner and received gifts.
---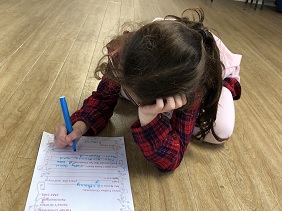 Beavers' Christmas Camp
23rd & 24th November 2019
Wildcat beavers had an activity packed weekend for their Christmas Camp. Amongst other activities, they wrapped presents, made cards, moulded clay, created reindeer food parcels (environmentally friendly), played games, prepared dinner and sang Christmas carols around the camp fire! They enjoyed a full Christmas dinner and wrote their letters to Father Christmas.
Although it was a tiring weekend, not much sleep was to be had on Saturday night!
---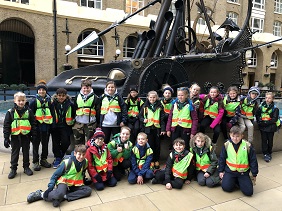 Kip on a Ship
1 November 2019
Our Sea King Cub Pack visited London for the weekend. They slept on the WW2 war ship HMS Belfast. During the weekend, they took many tube journeys visiting places such as The Tower of London, The London Eye, St Jame's Park and 10 Downing Street.
Click the image for the photos of this activity or visit the photo gallery for more pictures.
---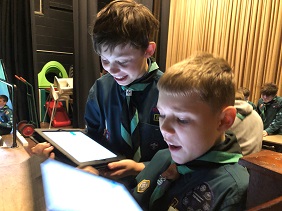 Jamboree on the Internet!
19 October 2019
Both scout troops attended the District JOTA-JOTI event.
They contacted scouts around the world, tried a bit of world cooking and created electrical circuits.
Click the image for the photos of this activity or visit the photo gallery for more pictures.
---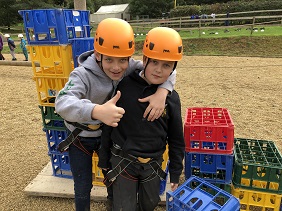 Crates, Arrows and Conkers
4 October 2019
Merlin troop held an activity camp at Woodhouse Park. We had activities including crate stacking, archery and the adventure course. We also took a hike to meet a local scout troop who fed us hot dogs and taught us some new games and a great new camp fire song, which we have been practising! Back on site, we played a new wide game which involved hunting Big Foot!
Click the image for the photos of this activity or visit the photo gallery for more pictures.
---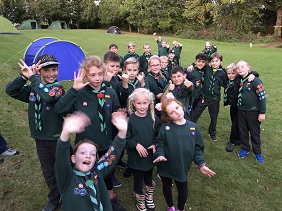 Steam Train to Minehead
27 September 2019
Sea King Cubs took a steam train trip to Minehead on their late Summer Camp. They did a treasure hunt along the sea front, finishing up at a restaurant where they ate lasagne! After that, they played a round of crazy golf and found time for the obligatory visit to the local shops and amusements. Back on site, they tried out some woodland skills including fire lighting, whittling and den building.
Click the image for the photos of this activity or visit the photo gallery for more pictures.
---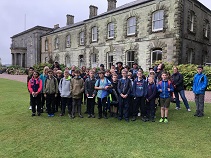 Surfing in Devon!
12 August 2019
Both scout troops joined forces to go to Devon for a surf camp. As well as hitting the beach, they did a bit of climbing, tackled the obstacle course, built dens and played in the river. We also took an unscheduled day trip to Arlington Court!
Click the image for the photos of this activity or visit the photo gallery for more pictures.
---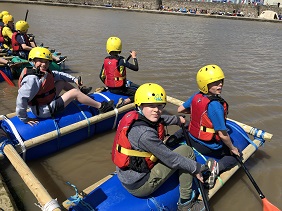 Racing Rafts on Marine Lake
30 June 2019
Both scout troops took the plunge and entered teams in this year's District Raft Race. We have never taken part before and didn't quite know what to expect. Would we fail miserably and have to be fished out of the water, or would we be victorious. The scouts tried some innovative designs for the respective rafts, settling eventually on a mainly standard format. We certainly didn't disgrace ourselves. All four rafts floated and we even managed to win a race in one of the heats. We are definitely interested in taking part again next year!
Click the image for the photos of this activity or visit the photo gallery for more pictures.
---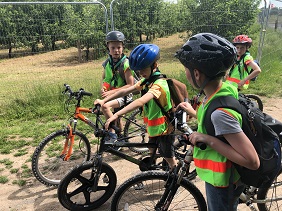 Taking the Strawberry Line
1 June 2019
Sea King cubs took to their bikes to ride the Strawberry Line. Previously a railway line, this track took them from Yatton Station through to Cheddar. Once there, we camped at Cheddar Scout Hut and spent the afternoon around the town of Cheddar. Being cubs, a visit to the gift and sweet shops were a must. That pocket money just had to be spent! It was a bit rainy for the cycle home, but nobody complained!
Click the image for the photos of this activity or visit the photo gallery for more pictures.
---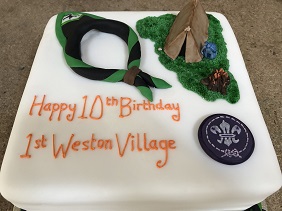 We are 10 years old!
11 May 2019
From humble beginnings ten years ago, our scout group has grown into the six large sections that we have today. Running exciting and varied programmes, camping and getting out and about on adventures. We had a party on Saturday where we undertook loads of team challenges and prepared a unique version of 'A Million Dreams' to perform to the parents when they arrived in the evening for the barbecue. All in all, a great day of celebration. Well done to the beavers, cubs and scouts for joining in and to our fabulous leadership team and executive committee for making it all happen!
Visit the photo gallery for more pictures.
---

Back to the top